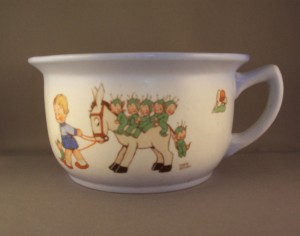 This interesting piece of Mabel Lucie Attwell Shelley pottery recently sold on ebay. The pot features the ever popular Boo Boo characters on one side a class Mabel Lucie Attwell little girl on the other. It sold for £185.00.
Description – The pot has blue base & top rims indicating it is for a male child, the main scene shows a little girl leading a donkey with 5 Boo-Boos on its back & one sat on its tail. The circumference has four groups of toadstools, with a further scene to the rear which depicts a little girl with dolls watching Boo-Boos by & on a toadstool – both scenes are signed MABEL LUCIE ATTWELL in brown. The base has the green SHELLEY, ENGLAND cartouche for 1925 – 1945 period, and COPYRIGHT DESIGN.
Price Guide: Shelley Childs Chamber Pot by Mabel Lucie Attwell £150-£250.
Click for Mabel Lucie Attwell Shelley items on ebay