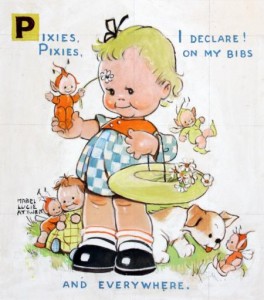 Chris Beetles has published a number of books including the excellent Mabel Lucie Attwell Fully Illustrated Biography and also runs the Chris Beetles Gallery. The gallery has many wonderful originals and prints not only by Mabel Lucie Attwell but many other artists as well.
This Signed Pen, Ink And Watercolour of Pixies, Pixies I Declare! On My Bibs And Everywhere measures by 10 1/2 X 9 Inches. Illustrated: Messrs Higham – Tong Ltd, 1964 Design For Bibs And Feeders On Towelling. It is priced at £2,750.
For more details visit http://www.chrisbeetles.com/.