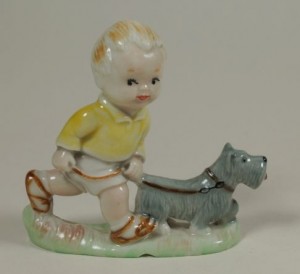 Wade made two figures Sam and Sarah under license to designs by Mabel Lucie Attwell. Both the children are portrayed with their pet dogs. According to the excellent Wade book by Pat Murray they originally cost 6/11d and were available from October 1959 until the Summer of 1961.
Several different colourways were produced but all have similar values. Sam is slightly smaller than Sarah and and his main colourings were Ginger hair, yellow shirt and grey dog. Sarah has a blue and white dress with a black dog. The colour of her shoes can vary being blue, green or red.
The figures are popular with both Wade and Mabel Lucie Attwell collectors but the price has fallen back from the highs of the collectables boom time of the late 1990s early 2000s. At that time dealers were asking between £150-£175 ($225-$270).
The current price in 2014 is between £40-£80. If buying from a dealer or an antique fair you should expect to pay towards the higher end.
Mabel Lucie Attwell and Wade