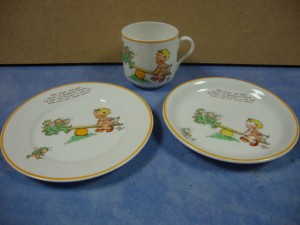 This wonderful Mabel Lucie Attwell Shelley trio featuring the See-Saw pattern recently sold on ebay. It is one of our favourites and features three Boo-Boos one one end of the see-saw and a girl and her dog on the other.
The trio features the poem
See-Saw See-Saw
Away to Banbury Town
I've Got The Fairies In The Air
How Can I Get Them Down?
It sold for £41.00.
Price Guide: Mabel Lucie Attwell Shelley Trio featuring See-Saw design £40-60.
Click for Mabel Lucie Attwell Shelley items on ebay