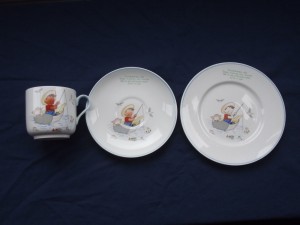 This rare Shelley trio featuring Fisherman Joe by Mabel Lucie Attwell recently sold on ebay. The pot features a boy Joe and his dog fishing and the poem:
Fisherman Joe
Goes Fishing You Know
An If He Catches One
Lets it Go
It sold for £51.00.
Price Guide: Shelley Childs Chamber Pot by Mabel Lucie Attwell £40-60.
Click for Mabel Lucie Attwell Shelley items on ebay