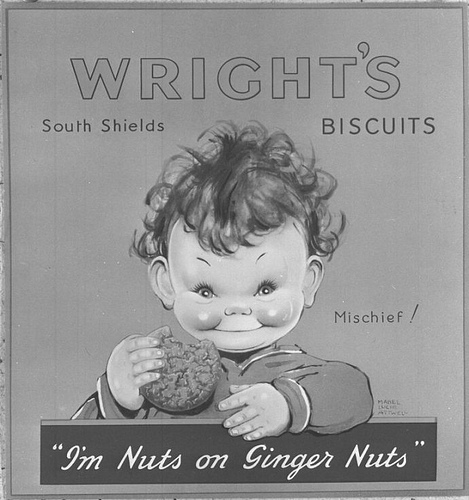 Mabel Lucie Attwell Artwork for Wright's Biscuits
This is one of the wrapper artworks for Wright's Biscuits, taken by Turners Photographic of Newcastle.
Wright's Biscuits was a well known company in South Shields, South Tyneside. Set up as a maker of biscuits, they started out by supplying their stock to ships in 1790, but after a fall in demand, Wright's turned to making more up-market biscuits. Wright's Biscuit factory closed in 1973.
Turners was established in Newcastle upon Tyne in the early 1900s. It was originally a chemists shop but in 1938 become a photographic dealer. Turners went on to become a prominent photographic and video production company in the North East of England. They had 3 shops in Newcastle city centre, in Pink Lane, Blackett Street and Eldon Square. Turners photographic business closed in the 1990s.
Image Copyright Tyne & Wear Archives & Museums'