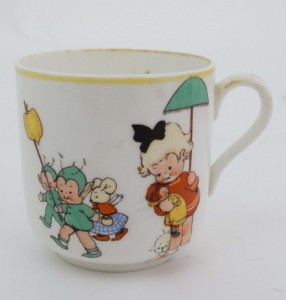 Up for sale at Dickins Auctioneers in Buckinghamshire on the 11th of July is a Shelley, " Mabel Lucie Attwell " Child's cup.
The cup is decorated with a child and fairies having printed artists signature and writing to side reading 'Fairy folk with tiny wings, Flying all over my, Plates and things'. Registered design number 721561. Shelley green shield stamp to base. 3" high.
The Shelley Mabel Lucie Attwell cup has an estimate of £15 to £25.
For more information visit http://www.dickinsauctioneers.com/